STATEMENT/BIO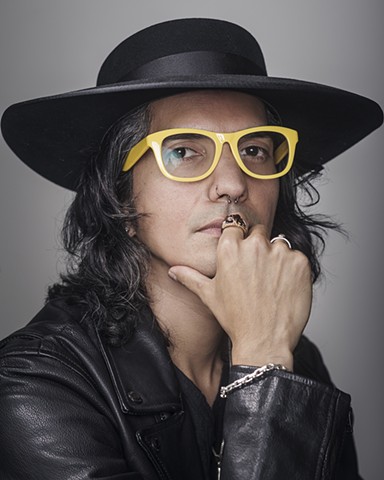 Michael Menchaca is an interdisciplinary Queer Xicanx artist active in disrupting racist narratives that target Latinx, Black, and Indigenous People of Color using print media and new media formats to generate anti-colonial, anti-racist, and anti-capitalist visions of the world. As a Mexican American born and raised in San Antonio—a community with colonial roots in military and civil policing practices—Menchaca, like many Texans, is constantly mediating the internalized racist and gendered beliefs embedded in them by the legacy of global white supremacy in the Americas.
Menchaca has developed a personalized lexicon of animal archetypes and narrative pattern designs to assist in mythologizing the interwoven histories of European colonization, U.S. slavery/mass incarceration, and the increasing deployment of surveillance technologies that maximize settler-colonial capacities of racial and social control. Their images blend the framework of ancient Mesoamerican Codices, European Bestiaries, and Japanese Video Games with the seductive, attention-seeking interfaces of Big Data Technologies. Recent work addresses the ways in which government agencies and Big Tech companies have constructed a digital caste system in what can be defined as "The New Jim Code" era*. Menchaca creates multimedia installations that apply a combination of printmaking, painting, and digital animation, exploring Latinx identities in a hyper-mediated American landscape.
Menchaca received their Associate degree from San Antonio College in 2007, their BFA from Texas State University in 2011, and their MFA from the Rhode Island School of Design in 2015. They have been an artist-in-residence at the Skowhegan School of Painting & Sculpture in Maine; The Fine Arts Work Center, Provincetown, MA; Vermont Studio Center, the Wassaic Project, NY; the Segura Arts Studio, Notre Dame, IN; the Serie Project at Coronado Studios, Austin, TX; and The Studios at MASS MoCA, North Adams, MA. Their art is in the permanent collections of the Smithsonian American Art Museum, D.C., U.S. Library of Congress, D.C., El Museo Del Barrio, NY, Detroit Institute of Arts, MI, Princeton University Art Museum, NJ, San Antonio Museum of Art, TX, and The Crystal Bridges Museum of American Art, AR. Exhibitions of their work have taken place at The Chrysler Museum of Art, Norfolk, VA; The Lawndale Art Center, Houston, TX; and The International Print Center New York. They are one-half of the artist collective Dos Xicanx. In 2021, the US Latinx Art Forum (USLAF) in collaboration with the New York Foundation for the Arts and supported by The Andrew W. Mellon Foundation and the Ford Foundation awarded Menchaca the Latinx Artist Fellowship.
Photo by: Anthony Francis
* Ruha Benjamin, Race After Technology (Cambridge, UK: Polity Press, 2019)